This video is a chapter in a book Maja Jo Leon is reading which you can download as a free PDF from her website at http://www.notmocked.com. The book addresses the problems facing the world from a biblical perspective clearly revealing that Christians are the most at fault AND that biblical Christianity is our only solution.


In case you've forgotten, you are REDEEMED. You are FORGIVEN. You are anointed with the precious hands of Jesus Christ. You are LOVED. Satan has no say and no power over you because God has claimed you and spoken life into your dead soul. You are HIS. Believe it, sweet child of the King. You are not alone and you never will be.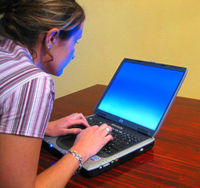 Prayer
Jesus Christ, do I miss connecting with You as much as when I lose my Internet access? Skipping a prayer produces only a vague nagging thought in the back of my mind. When I'm knocked off the Internet, the pain makes me scream. Let my soul react as strongly when I'm away from Your presence.
Our Father which art in heaven, Hallowed be thy name. Thy kingdom come, Thy will be done in earth, as it is in heaven. Give us this day our daily bread. And forgive us our debts, as we forgive our debtors. And lead us not into temptation, but deliver us from evil: For thine is the kingdom, and the power, and the glory, for ever.