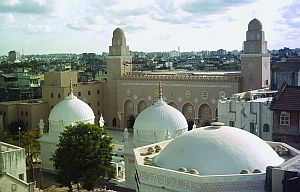 I pray against the spirit of materialism that permeates the lives of Bohras in Surat, India. I ask You, Yahushua the Messiah, to reveal Yourself as the Perfect Provider.
Yahweh, I pray that You move supernaturally among the Bohras in Surat. I pray that they would receive dreams and visions of You.
Yahushua, Prince of Peace, I pray that You calm the tensions between Muslims and Hindus in Gujarat. Both will need to learn the way of peace.
Psalms 59, 60, 61, 62, 63, 64, 65; Romans 11:13-36
Our Father which art in heaven, Hallowed be thy name. Thy kingdom come, Thy will be done in earth, as it is in heaven. Give us this day our daily bread. And forgive us our debts, as we forgive our debtors. And lead us not into temptation, but deliver us from evil: For thine is the kingdom, and the power, and the glory, for ever. Amen.