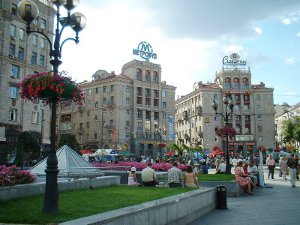 Original File Name: Ukraine Kyiv Maidan Nezalezhnosti close.jpeg
Description: Kiev Independence Square
Date: 16 June 2009 (original upload date)
Source: Transferred from hr.wikipedia.
Author: Original uploader was Seiko at hr.wikipedia
Permission (Reusing this file): Released into the public domain (by the author).
Licensing: This work has been released into the public domain by its author, Seiko at the wikipedia project. This applies worldwide.
In case this is not legally possible:
Seiko grants anyone the right to use this work for any purpose, without any conditions, unless such conditions are required by law.